There are many reasons you'd want to know about the best types of deck railings. Perhaps you're overseeing an external makeover of a house. Perhaps you want to know more about the metal shop drawings you'll need. Or perhaps you're just really into learning about outdoor living trends.
Whatever the reason, putting care and thought into deck railing will help you ensure not just safety, but a harmonious aesthetic.
Choosing the perfect deck railing to construct can be difficult, since there are so many options. With this article, we hope to make your choice a bit easier. We'll cover some of the best types of deck railings available.
Introduction
Deck railings come in a range of styles that can suit various architectural styles, from Colonial to Victorian to modern.
Generally, it is best to pick a railing that complements not only your deck, but also the architectural style of your house. This will help to create a comprehensive, pleasing, and unique look.
And don't forget, the railing also needs to suit your purposes and wants. For example, depending on the view from inside your house and from the deck, you might want a railing you can look through as much as possible. Conversely, you might prefer a larger railing.
Before you go for any deck railing, decking baluster, or decking products, you should always research how difficult it will be to obtain and install, how expensive it will be, and how much maintenance will be required in future.
With that, let's dive in.
The Best Deck Railing Types
Metal Railings
Metal railings, especially aluminum deck railings, are a popular option.
Aluminum is both cost effective and does not require much maintenance. Furthermore, it is not susceptible to rust.

For standard picket-style railings, iron, steel or powder-coated aluminum can be used.

Wrought iron railings are a gorgeous and durable choice, and will lend themselves well to Victorian buildings or buildings with old-fashioned charm. The main drawback to wrought iron is that it rusts easily – even more than steel.

Metal deck railings are highly customizable and can be made into various shapes that can suit your liking. For instance, the balusters can be made thinner than the wood, allowing for a better view.

Steel railings are not commonly used due to steel's tendency to rust. If you do decide on steel railing, remember that it will require regular maintenance to prevent rust.

Cable railings block the view less than many other railings. Often, they are used with marine-grade stainless steel.

Hog wire deck railing is another option, especially for farms and commercial buildings. This consists of a kind of wire fence with metal rods that are welded together.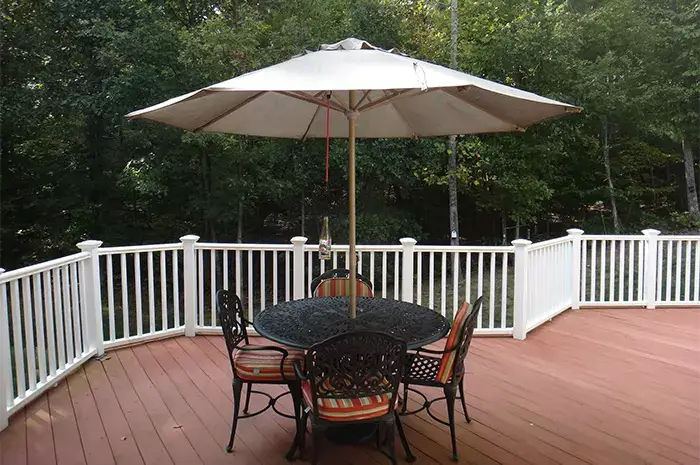 Image by jjohnl
Wood Deck Railing
Wood is another go-to railing material for decks. This is because it is both aesthetically pleasing and cost effective, and can be customized to suit one's preferences.
It can be used to make many types of railings, including Chippendale railings, standard picket-style railings, rustic railings with misshapen timber as balusters, and turned balusters.

Some woods available for wooden railings include cedar, redwood, mahogany, pine, cypress, ironwood, and pau lope. Each has its own merits. For example, pressure-treated lumber is generally the most budget-friendly choice and is also durable. Furthermore, it is easy to stain, refinish and paint. Cedar has natural pest resistance and durability.

Some of the drawbacks of wood deck railing include the possibility of mold, rot, warping, fading, splitting, and splintering. It is also more combustible than other railing types, and requires regular maintenance.
Composite Railing
Composite material is also commonly used for railings. This consists of a mixture of plastic and wood particles.
It is low-maintenance and weather-resistance due to its ability to repel water.

The railings are either pre-manufacture and sold in kit form, or can be purchased in customizable parts and then built.

Composite deck railing has the advantage of looking like wood while remaining more resistant to the elements.

It can come in various styles, but generally the most popular one is the standard picket style.

However, it is difficult to repair and may require a full replacement instead.

It also does not come in a lot of colors.

Furthermore, composite rails are less durable than aluminum deck rails even though they are about the same price. Hence, we would recommend going for aluminum over composite rails, unless you prefer the composite aesthetic.
Glass Deck Railings
Glass (combined with aluminum posts and rails) may not be the first material that comes to mind when it comes to deck railings, but it has its merits.
The transparency ensures that views are not obstructed. So if you live in a place with gorgeous scenery that you love to look at, glass railings are a great choice.

The most common glass railings for decks are framed and frameless railings. The former replaces pickets with tempered glass between the posts and railing. The latter removes the top and bottom rail.

The glass can also be held in place with spigots, which essentially removes the posts from the view. This helps to create an ultra-modern look.

Clear glass will allow for a more panoramic, unobstructed view. However, you can have the glass frosted, tinted or obscured for privacy or aesthetic effect, especially for taller railings.

It is important to note that glass panels of less than 10 mm thickness should be avoided. This is for safety – you don't want the glass shattering because someone accidentally fell onto it.

However, glass is not the most popular pick for deck railings with good reason. It is expensive, starting at around 45 USD per lineal foot. That's almost 4 times the cost of a basic wooden railing.

It requires regular cleaning to maintain that clear view. Otherwise, it will get stained with fingerprints, animal droppings, dust and so on.

Glass railing can also create a greenhouse effect. In cold weather, this may be ideal, but in warmer weather, it's extremely unpleasant, to say the least.
Conclusion
We hope this article has given you a good starting point for constructing a safe, aesthetically pleasing deck. There are many types of deck railings and the one that suits you best will ultimately depend on your preferences, location, budget and so on.
For metal deck railing, you can benefit from accurate fabrication drawings. BluEntCAD provides metal shop drawing services to railing manufacturers, window manufacturers, curtain wall manufacturers, concrete subcontractors, and excavating subcontractors. Browse our portfolio to see how we've helped businesses like yours.
Ready to make your next deck construction or renovation project a success? Contact us now!