US +1(832) 476 8459
|
Canada +1(647) 478 5230
Virtual Simulation in the AEC Industry
/
/
Download Our Building Information Modeling Sample
Download Our Building Information Modeling Sample
The AEC Industry is experiencing a dynamic shift as more and more stakeholders are accepting Building Information Modeling (BIM) as a tool to integrate this fragmented industry. With its information-rich virtual models, various components of the building can be visualized more effectively – eliminating widespread redundancies and inefficiencies across the sector, improving collaboration and enhancing communication & productivity. The processes which support BIM are constantly evolving and BIM simulation is a trending topic which is the talk-point of today's article. The integration of BIM and VR in construction fosters effective communication, quicker problem solving and retrieval and presentation of information more collaboratively.
Quick recap – What is BIM?
BIM is the process of generating building information in form of computer models. These models allow seamless sharing, exchanging and reusability of data for construction planning, design simulation and facilities management. BIM simulated designs are data-rich and intelligent and are essentially, parametric digital representations of the project.
In broader sense, BIM models can be considered as virtual presentations of actual buildings. However, BIM is more than just an object-oriented three dimensional model creation methodology. It acts as a data and project repository which can be used for accessing old data and reusing its components; thereby facilitating interoperability and data exchange.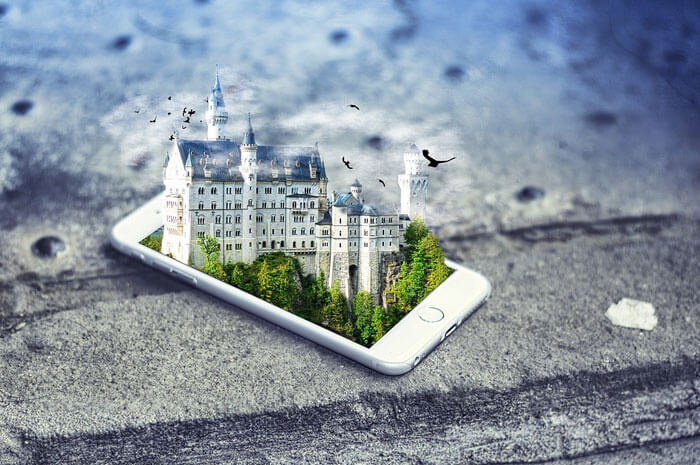 Types of BIM models
A typical BIM model is capable of generating and maintaining information produced during the entire lifecycle of a construction project, right from design to maintenance. With the help of BIM models:
You can generate customized data sets and views.
You can analyze and apply these data sets to generate new information.
You can design nD/BIM models since the methodology is capable of generating multi-dimensional data.
Let's look at some of the common nD data models:
3D BIM models

These models utilize the spatial geometry and physical & mechanical properties of parametric objects to create modeling processes of architectures, structures and MEP.

4D BIM models

4D models link various 3D elements with time schedules. These refer to construction planning which supports the visual simulation of a building construction. With 4D BIM models, it becomes easy to compare planned vs. real sequence of processes.

5D BIM models

These models are associated with cost estimation. Based on the material quantity in every step, financing can be planned with 5D models.

6D BIM models

The energy consumption estimate for the entire project and its subsequent monitoring, measurement and consumption is supported by 6D models.

7D BIM models

7D models support the building maintenance activities and facilities management required once the building is occupied by residents.

With technological advances, the AEC industry has seen several breakthroughs. Perhaps the most innovative and distinct is the introduction of virtual reality in architecture. Present day VR devices allow stakeholders to venture into a virtual world and interact with this virtual space and its components. An interesting aspect to note here is that creation and manipulation of design data is the essence of BIM and visualization of virtual world and interacting with it is the front-face of virtual simulation – so, the avenues to make use of virtual reality in architecture are endless with unlimited potential.

Currently, VR and AR in BIM are limited to the 3D models. Before the cost forecasts and sustainability studies, engineering 3D models are essential for a building project. Some are required by customers while some are government mandates for licensing.
Take a look at how the virtual world and architecture combine:
To simulate water and drainage

Even a two storied building needs to address water distribution on different floors. With architecture firms using VR, simulations of drainage systems can be created to ensure that the water pressure is consistent across the floors and the effluent does not retract in the pipes. With architectural VR software, an effective simulated fluid movement for any building can be generated, keeping the volume flow, pressure and decline in gravity in mind.

To create fire suppressing and fire resistant designs

In event of a fire, two scenarios can be imagined:

A building is adequately protected with fire suppression systems

Or;

A building is fire resistant

Whether you go for a liquid based fire suppression system such as water or a gas based system containing nitrogen or carbon dioxide, the system needs to be thoroughly planned and tested so that minimum damage happens in the event of a fire. Liquids and gases have specific properties for delivery and you can create the most effective fire combating system for your building through virtual simulation.

Additionally, different materials burn at different rates. Long, vertical spaces act as vortex for flames and heat when a fire breaks out. On the other hand, enclosed spaces cut off oxygen supply and change the burning rates of materials inside them.

All of this can be simulated brilliantly with a 3D environment to predict the path of flames for testing the fire resistance of materials inside.

To regularize product flows

Irregular product flow compromises the structural integrity of a building. Water distribution systems, waste removal systems and fire suppression systems all need to be planned properly so as to avoid expensive mistakes and reworks. Right VR architectural visualization building models help in understanding these flows and prevent future mishaps.

To ensure structural integrity of a building

Probably one of the most important benefits of virtual reality in architecture is the ability to test structural models against natural disasters. Fire, earthquakes, floods; wind storms are all events which can reduce a building to dust. When done right, the simulations can help prevent life and material damage from natural calamities and catastrophes.

To control crowd

When several people move across a floor, they behave as a liquid. Tighter places have accelerated speeds as everyone tries to get out. On the contrary, speed slows down when the area is large. This dynamics changes if the spaces are enclosed just like a valve changes the liquid flow inside a pipe. Simulations help in designing better and more efficient emergency exits to make the building safer and less hazardous. Get in touch with our experts to know more about BIM ServicesE-mail: cad@bluentcad.com
US: +1 (832) 476 8459
Canada: +1 (647) 478 5230
Query: Work with experts

To create efficient waste removal systems

Waste removal and treatment is a critical challenge for many commercial and residential buildings. Whether you have a manufacturing unit or a residential property, it will generate copious amounts of waste. With BIM VR, you can ensure that the waste is actually removed the way it should be, whether it's liquid or solid. This planning will help you obtain compliance from EPA and adhere your building with local and state safety regulations.
Virtual World and Architecture
VR leads to better communication amongst key stakeholders across the AEC industry with greater design visualization. Different data sets equip architects, builders and contractors to forecast problems and their solutions, avoiding costly reworks. The acceptance of Virtual and Augmented realities in BIM has been steadily growing. Saj, from BluEntCAD explains, "I truly feel that BIM methodology and VR have the potential to innovate the construction and building industry. VR applications such as architectural walkthroughs and augmented reality are the future of VR BIM. VR enables a user to immerse completely in a 1:1 scale. With VR, architects, building engineers and construction management professionals feel enabled since the designs are better visualized and collaborated upon."
And rightfully so.
Architectural walkthrough is a vastly popular application of virtual reality in the AEC industry of which BluEntCAD is a pioneer of. BIM + VR has several interesting uses. The very experienced BluEntCAD's BIM and architectural walkthrough experts would love to build stimulating simulations for your business or your next project idea. Discuss your next idea with us today!
Enquiry
We are happy to assist you in any way we can.