Man welding steel by Roxana Williams
This blog has been updated on – May 27, 2022
Assembly drawings are presentations (or representations) of products or structures with their components or parts connected together in their relative working positions while in use. Why are they so important to the construction process, and what do they include?
Before we dive into assembly shop drawings, let's understand what shop drawings are. 
What Are Shop Drawings? 
Shop drawings (or workshop drawings) are a detailed presentation of the construction and fabrication process. They clearly display the design, shape, structure size, material, and assembly of the items, as well as the installation of the unit. 
The drawings may be prepared by suppliers, fabricators, manufacturers, contractors or subcontractors. Typically, they relate to pre-fabricated components and show how they should be installed or manufactured.
Shop drawings generally include more detail than construction documents. Their primary emphasis is on a particular installation or product, and they exclude notation about other installations and products. The exception is when integration with the subject product is required.
Examples of the prefabricated components shop drawings are used for include:
Millwork

Cabinetry

Windows

Pre-cast concrete

Structural steel

Trusses

Air handing units

Elevators

Appliances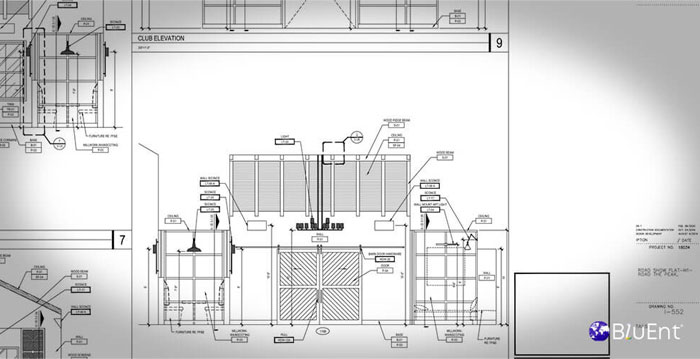 Millwork shop drawing by BluEntCAD
What Are Assembly Shop Drawings? 
Assembly shop drawings (which we are also calling simply assembly drawings) display the entirety of a system or machine, with all components identified and located. They are meant for item identification, standard requirements, and labeling the sequence for assembly.
Typically, assembly drawings are produced in two forms: 2D sectioned view, or exploded pictorial view.
The drawings include:
Orthogonal sections, plans, and elevations, explaining the assembling process

3D view – showing the final assembled product

Mass & weight

Exploded view – explaining the connection between a variety of components and how they come together with each other

Bill of Materials (BOM)
Some millwork projects require assembly shop drawings for furniture. Others demand the assembly of the complex components of a building or require showing a relation between the number of items.
Types of Details Assembly Shop Drawings Usually Involve
Shop drawings generally include instructions based on the complexity of the product and the requirements of the client. They may also include:
Reference numbers

A list of the components

References to the detailed shop drawings

Notations

Dimensions

Symbols
Every detail provided in the shop drawing must stick to industry standards.
Furthermore, designers and architects need to be careful that they are not repeating information or detailing of the shop drawings. If information is duplicated, this might cause confusion for the client.
Types of Assembly Shop Drawings
General assembly shop drawings – involves overall components

Outline assembly shop drawings – covering the exteriors of the assembled work

Diagrammatic assembly shop drawings – involving symbols to represent the assembly

Sub-assembly or unit assembly shop drawings – detailed assembly of a part or a unit

Fitted assembly shop drawings – final assembly

Exploded assembly shop drawings – showcasing the relationship of different separate parts
Assembly drawings can get complicated when multiple details are required. That's why designers should prepare drawings that reflect the desired details and clearly convey the drawing's purpose. 
Note that preparing an exploded assembly drawing is relatively easy, while preparing an orthographic view of the individual components is more complex and requires some skill. 
What Are Millwork Shop Drawings?
Many high-end projects in commercial, residential and hospitality spaces use millwork for their interior design. Indeed, between 2017 and 2022, the millwork industry in the US alone grew at an average of 1.5% per year.
Millwork drafters and designers produce millwork shop drawings to enable timely and accurate installation and production of millwork, casework, custom cabinetry, doors, trims and moldings, wall panelling, wooden stairs, ornamental fixtures, and other wood products.
Often, millwork shop drawings are produced by the millwork supplier and submitted to a designer or architect for approval before fabrication.
What Are Fabrication Drawings?
Fabrication drawings (sometimes also called metal shop drawings or steel shop drawings) are a specific kind of detail drawings. They generally include a material parts list, which identifies all materials required to build a fabrication. Some fabrication drawings could almost be considered assembly drawings – that is, a collection of items assembled together as a fabrication.
Usually, fabrication drawings are used for the production of steel structures and objects. They specify hole locations, length, section sizes, and so on. The drawings also contain details related to the welding, using the standard symbolic representation.
Detailed fabrication drawings help in receiving architectural approvals and can make a project more profitable.
Fabrication drawings are generally used for: 
Architectural Steelwork

Stairs

Sheet Metal

Structural Steel

Ballustrading or Handrails
Conclusion 
All projects might not require every type of drawing mentioned above. However, large, complex projects often do. To avoid future risks and monetary loss, stakeholders prefer to incorporate detailed fabrication and assembly shop drawings.
Designers and drafters should be concerned about every aspect of the project and carefully handle the involved liabilities. They should also be able to diligently review and approve the shop drawings before starting the on-site project.
Often, due to a lack of time or resources, shop drawings are outsourced to established companies such as BluEntCAD. Our clients include millwork & woodwork manufacturers, casework companies, AWI members, kitchen remodelers, flooring, stone & sheet metal manufacturers and installers, and architectural and engineering companies. Browse our portfolio to see how we've helped companies like yours.
Ready to make your project a success with shop drawings services? Contact us now!
Maximum Value. Achieved.