3D render of terrazzo podiums
Terrazzo flooring will give any space, whether commercial or residential, a feel that is both modern and timeless. But what is terrazzo, and how and where should you use it?
In this article, we'll give you the lowdown.
Introduction: What is Terrazzo Flooring?
The next time you visit a place with high traffic, such as an office building lobby or an airport, take a good look at the floor. It's probably terrazzo you're seeing. You may even recognize it as the material that's used on the Hollywood Walk of Fame.
Terrazzo is a composite material that is made by combining a cement base with an array of ground materials such as granite, quartz and marble.
The name "terrazzo" comes from the Latin word "terra", which means "ground". It can be applied to both vertical and horizontal surfaces, and is known for its easy maintenance, durability, and resistance to abrasion and water. Hence, it was a go-to material for residential flooring and common areas in commercial and residential buildings.
There are different ways to create terrazzo flooring. It can be precast into blocks that are cut to size, or poured by hand in situ. Ready-made terrazzo floor tiles are also available on the market, and can be applied straight to floors.
While initially terrazzo was used mainly in commercial buildings, it became popular in homes, not just as flooring, but also for surfaces such as backsplashes and countertops. Since the flecks and colors are customizable, customers can choose from a broad range of designs.
If you're thinking of installing a terrazzo floor, you're not alone. Terrazzo is currently undergoing a revival as a key trend in contemporary architecture.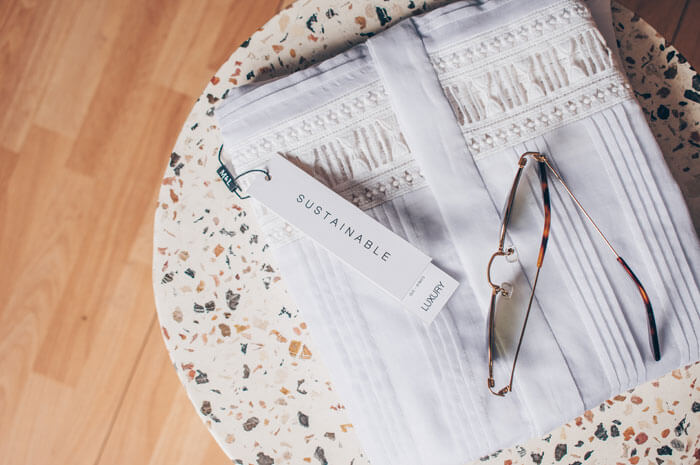 Credit: Jess @ Harper Sunday, Unsplash
Types of Terrazzo Flooring
Terrazzo surfaces, design and installation are being revolutionized by new technologies and techniques. There are currently two main types of terrazzo flooring: cementitious terrazzo and epoxy-based terrazzo.
Cementitious Terrazzo

Cementitious Terrazzo (or cement terrazzo) is suited for renovation and exterior project, as it is heavier and thicker than epoxy-based terrazzo. It includes multiple terrazzo systems, including bonded, rustic, sand cushion, polyacrylate and monolithic.

Cement terrazzo is better than epoxy-based terrazzo at withstanding steam cleaning, point loading, heavy traffic, and impacts. While there are not as many color options as there are for resin systems, you can still create gorgeous earthy tones.

Epoxy Terrazzo

Epoxy-based terrazzo gives a smooth, luxurious finish due to its thin-set system, and offers good design flexibility. Another advantage is faster application than cement terrazzo. Such speed permits a faster project turnaround and is ideal for busy areas, such as shopping centers.

This type of terrazzo is made from a two-component resin system and is extremely light. It can cure overnight and be ready for polishing the next day.

While you can create colorful, intricate designs with epoxy-based terrazzo, it is not suited for the outdoors, since it cannot absorb water.

Terrazzo tile made from recycled glass. Photo by John Lambert Pearson. Shared under the Attribution 2.0 Generic (CC BY 2.0) license.
History of Terrazzo
Types of terrazzo can be traced all the way back to ancient Egypt, Rome and Greece. However, Terrazzo as we know it originated in Italy in the 15th and 16th centuries as a method of reusing stone offcuts. Masonry workers used dynamite to quarry granite and marble. Workers would gather them, mix the chips with cement, and pour this mixture on their terrace.
Marble at the time was reserved for the Italian aristocracy. It was not available to the working class. However, terrazzo gave the working class access to a more "high-end" design aesthetic.
As people migrated from Europe to the US, terrazzo workers brought their craft with them, and the industry evolved. The first installation of terrazzo in the US was laid at the Vanderbilt residence in New York.
Terrazzo fit well into the Art Deco and modern design movements, and was considered a material of choice for many iconic buildings of the 20th century, including the Radio City Music Hall and the Empire State Building.
Recommended Reading:
Advantages of Terrazzo Flooring
Highly customizable

Easy to clean: no polishing, scrubbing or scouring

Hard to stain

Resistant to mold and non-porous when properly sealed

Highly durable (often used in institutional and commercial buildings)

Contributes to sustainability since it can last the life of the building

In-situ application ensures monolithic surface and saves freight costs, time and space

Low lifecycle costs and maintenance

Timeless style

Great chemical resistance
Other Uses of Terrazzo
Terrazzo is used everywhere in modern design and decor. Flooring is certainly the first thing most people think of when they hear the word terrazzo: it is used in civic centers, schools, courthouse architecture, and office buildings.
Other than flooring, terrazzo can be used for many purposes:
Kitchens: Use terrazzo or terrazzo tiles as a backsplash, or for your countertops and cabinets! Play with the different colors and shapes available to you on the market. It can come especially in handy if you're remodeling your kitchen.

Bathrooms: Combine terrazzo tiles with jewel tones and soft pastels to make your bathroom look like something out of an interior magazine. You can use terrazzo for the floor, countertop, shower and more.

Outdoors: Terrazzo isn't just meant for interiors. Cement-based terrazzo is a great choice for outdoor areas.

Furniture: Since terrazzo can be poured into molds, you can use it for furniture and homeware. If you want to know what your pieces will look like before they're made so you know they'll be a good investment, go for product rendering.
Conclusion
Terrazzo's versatility means it is uniquely suited to different purposes. We hope this article has given you an insight into its uses.
If you're looking to install a terrazzo floor or use terrazzo tiles, you'll need stone and tile shop drawings. For those, you needn't look further.
BluEntCAD provides shop drawings services to flooring manufacturers and installers, stone manufacturers and installers, AWI members, AWMAC members, architectural and engineering companies, and kitchen remodelers for commercial, hospitality, infrastructure and residential projects.
Ready to get the look you want with tile and stone shop drawings? Contact us now
Maximum Value. Achieved.