Wooden table near lamp sconces.
Every table is central to a person's story. You might have celebrated your child's fifth birthday at one, or written your final dissertation, or eaten warm apple pie with your grandmother. It's only fitting that you know the best types of tables for a space, whether it's a hotel lobby or your remodeled kitchen.
Purchasing a table or getting one created from scratch can be a highly personal experience. It will act as a centerpiece for entertaining guests, working, or sharing meals.
We'll give you some of the best tables to choose from so your space can be both functional and chic.
Factors to Consider Before Purchasing Your Tables
1.

Shape

The shape of your table helps ensure that your space is comfortable, practical, and fits the style you want.
Rectangle: The most popular table shape. Functional and easy to style. Best for large families and narrow rooms, since it can accommodate more people.

Round: Allows for easily shifting seat options. Can fit in tight and small spaces and are great for social functions, since they encourage communion and familiarity.

Square: Perfect for compact spaces and four diners.

Oval: Stylish and interesting. Provides extra space for dining.

Freeform: Do not fit neatly into any of the above categories. Add visual interest to spaces and can be great statement pieces.
2.

Size or Capacity

Depending on your needs, you can get a table for 2, 4, 6, 8 or 10+ people.

The idea is to maximize seating capacity without ending up with a cramped space that's hard to get in and out of. For easy movement, keep a minimum of three feet between the backs of the chairs and the walls.

Furthermore, make sure the table is large enough for every person to have comfortable elbowroom. If you host large gatherings, consider getting an extendable table and other space-saving furniture to help you manage.
Credit: Pixabay, Pexels
3.

Material

Materials you can choose from include wood (here are the best wood types for furniture), marble, glass, laminate, tile (don't ignore the latest tile trends) and metal.

If there will be children around your table, choosing the material becomes very important. Do you want a table with a dark finish that hides stains, or a table that is attractive but hard to clean? If you suspect the children will be energetic and boisterous, it may be best to avoid glass tables and tables with sharp edges.

For spaces where pets are allowed, consider a table with metal legs and a pedestal base to stop them from gnawing on it.
4.

Style

Try to ensure that the style of your table matches the style of your space. Whether your interiors are mid-century modern, minimalist, cottagecore, contemporary, or anything else, your table should enhance the aesthetics.
5.

Base

Do not neglect your table's base, or you'll end up with one that doesn't give you enough legroom and makes everyone sitting there uncomfortable. (This is fine if your goal is to get people out pronto, but for, say, a fine dining restaurant, it can kill your profits.) Your table may also appear unbalanced.

For bases, you can choose between pedestals, legs or trestles. This will help determine how many people can sit there.

Legs are typically used for square and rectangular tables. Pedestals are placed at the center of the table and generally used for round or small tables. Trestle supports are connected by a parallel tabletop and fixed at the edges of the table. There are also sawhorse bases and cross-legged bases.
6.

Top

You can choose between slab tops and drop tops (also called framed-in tops). In the latter, a frame is built under the top for extra support. However, this results in less legroom.
Recommended Reading:
Types of Tables to Choose From
Whether you're looking for kitchen tables or farmhouse dining tables, it's best to start here. While there are more unique types of tables such as game tables, drum tables and bunching tables, we will be focusing on the basics.
1.

Coffee Table

This much-beloved type of table is often used in seating areas or living rooms and placed in front of chairs or a couch. They are typically used to display books, knick-knacks, and plants, and you can place food and drinks on them.
Credit: Chait Goli, Pexels
2.

Accent Table

"Accent table" is a loose term that covers a variety of tables, including console tables, coffee tables, end tables and more. As the name suggests, they are showpieces, though they can still be practical. Furthermore, they are often on the smaller side.

An accent table should elevate your space's aesthetic and bring the whole design together. Whether the table style is rustic or glamorous, it should draw the eye.

Be bold with your choices for accent tables! Shelves, trunks, and even antique chairs can double as this kind of table.
3.

Drink Table

These stylish tables are quite small, with just enough room for a drink, whether a coffee or a brandy. They are usually on the shorter side, though it is possible to find tall ones.
4.

C-Table

C-tables are designed to provide a surface for working, reading or eating without taking up too much legroom or floor space. They get their name from their "C" shape, which allows them to fit neatly over couches, beds and chairs.

These tables tend to be more stylish than their fold-out counterparts and are both space-saving and functional. They're especially great to have if you like snacking and watching Netflix at the same time, since coffee tables can be bulky and hard to reach while sitting down.
5.

Kitchen Table

Kitchen tables are workhorses, meant for daily use for meals, work, play, crafts and more. Usually, they seat between four and six people, though they can also seat two (these are called bistro tables). Kitchen table sets can also be considered dining table sets if you do not have a separate dining area.
6.

Bedside Table

Many bedrooms will have one or two bedside tables, also called nightstands. They typically are meant for items one may reach for upon waking up or right before sleeping, such as books, glasses, and electronic devices.

Bedside tables can be chests, cabinets, small shelves, or actual tables. They are often small, though larger bedrooms can accommodate larger tables.
7.

Conference Table

Conference tables are important in commercial building design. They are often large, and can have ports and plugs for phones and laptops.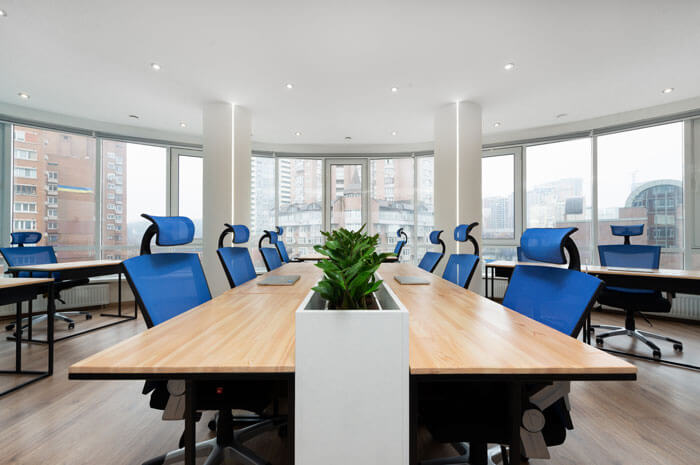 Credit: Max Vakhtbovych, Pexels
8.

Foyer Table

These tables are meant for (you guessed it) foyers. While not all foyers have a table, they are good for convenience. Typically, foyer tables are placed against a wall, but you can place them in the center of large foyers.
9.

Dining Table

Dining tables usually seat six or more people. For additional seating, look for dining tables with extra leaves. If you have a smaller space, consider a folding dining table.
Conclusion
Ultimately, different types of tables will suit different needs, and we hope this article has given you a good starting point.
The best high-end furniture, including the best tables, benefit from millwork drafting services. These help ensure that the table is sturdy and placed correctly.
BluEntCAD offers millwork shop drawings services to woodworking companies, custom furniture manufacturers, casework companies, millwork shops, signage manufacturers, interior designers, decks/fencing manufacturers and home designers.
Browse our portfolio to see how we've helped companies like yours.
Ready to make your project a functional, stylish success with millwork shop drawings? Contact us now!
Maximum Value. Achieved.