Wooden armchair by Teddy Yang
This blog has been updated on – March 30, 2022
Millwork vs casework: What's the difference? They might seem similar at first, but soon you'll find that they are beautifully unique. Let's dive in. 
Millwork and casework are two important woodworking categories. While both millwork and casework fall under the umbrella of carpentry, the intent of manufacturing and the buyer persona make these branches distinct from each other.
What is Millwork?
Millwork is woodwork that is manufactured in a mill. It has been in existence for many hundreds of years, and its golden era stretched from the late 19th to early 20th centuries. Millwork includes flooring, wall panelling, doors, trim, molding and crown molding, and also decorative goods such as door casings and mantels. Frequently, it is custom-made according to client requirements and produced in limited quantities.
Custom millwork can serve both practical and decorative purposes, and can be minimal or ornate. Since such millwork is bespoke and has a wide range of variations and designs, it is often more expensive than casework or mass-produced wooden pieces. Having said that, custom millwork can be used everywhere, from hotel lobbies to residential buildings to restaurant interiors.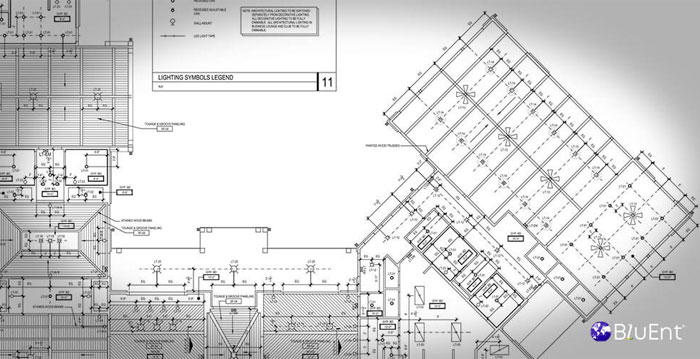 Millwork shop drawing by BluEntCAD
What is Casework?
Casework typically (though not always) refers to modular or prefabricated wooden furniture. While it does not usually have the level of customizaton available for millwork, there are still several varieties, and certain elements can be added according to client needs.
As the name suggests, "casework" refers to box-shaped wooden objects, such as bookcases, shelving, kitchen cabinets, drawers, and storage spaces. It can consist of partially or fully assembled objects. An example of a store that supplies casework would be IKEA.
While casework can be aesthetically pleasing, practical and even luxurious, it is not custom-made for your space. It is mass-produced with pre-defined dimensions and measurements, and hence generally less expensive than custom millwork.
Millwork vs Casework: The Major Difference 
Millwork is generally custom-made.
This is the major difference between the woodwork types. Woodworking pieces such as wood paneling designs and furniture, commercial cabinet designs, and storage are all part of custom millwork. They are built on millwork shop drawings – designed as per customer and property requirements. For any finished product to be considered millwork, it must fit into the space for which it is intended.
Say you get an ottoman designed for your bedroom. It will match the bed, the nightstand, the shelf, and the overall ambiance of the room.
Now consider what happens when you buy a piece of furniture from a brick-and-mortar or online store. The package that gets delivered to you is a casework product.
How to Estimate Custom Millwork Costs
A standard guideline is to multiply the cost of material at least twice or thrice to get the cost of finished millwork. However, it is important to note that there are no hard and fast rules for the cost. 
For cabinetry, a common request in millwork, semi-custom work will cost about 100–650 USD per linear foot, while fully custom millwork can set you back between 500–1,200 USD per linear foot.
But Which is Better – Millwork vs Casework?
The dilemma of choosing between millwork and casework is an old one. Both types of woodworking have unique advantages, and contractors use both.
Casework offers quick storage options. These are ready-to-use and are offered in several varieties, finishes, and budgets. Casework is generally preferred by rental building contractors and hotel proprietors. You'll often find it in hotel lobbies, office buildings, gyms, malls and other commercial places with a high footfall.
On the other hand, custom millwork detailing is unfinished and there is scope for further customization based on your taste, style, and requirements. Since such millwork is more expensive, private homeowners tend to go for it. It highlights their individuality and adds considerable value to the house.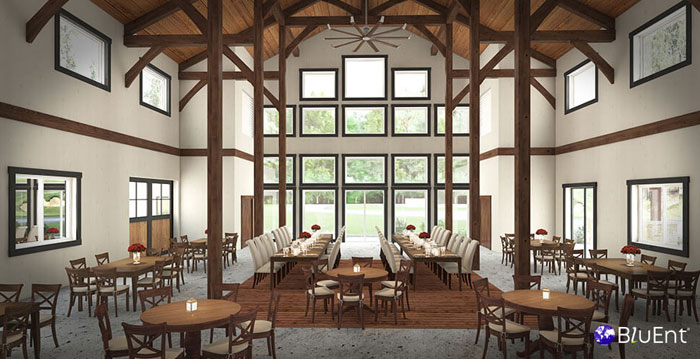 Interior rendering with woodwork by BluEntCAD
That being said, whether choosing casework or millwork, the decision lies with your budget, the kind of property you are thinking of developing, and your construction timeline. If you have time and a high-end budget, and want your home to reflect your style, we recommend custom millwork.
Advantages of Custom Millwork
Customization options: Architectural millwork can be created for any industry or property.

For example, BluEntCAD has worked with clients who wanted custom millwork drafting for the healthcare, retail, and hospitality industries, as well as for commercial, residential and industrial real-estate purposes.

Bold and beautiful: Since millwork is built with customer-specific requirements, it adds a personal touch to the interiors of your building. You can get custom wood paneling drafting and custom cabinet drafting done to create beautiful wood pieces with intricate designs that accentuate interiors and exteriors.

Quality to your taste: With casework, you do not get to choose the kind of wood, texture, or furnishings you want. This is taken care of with custom millwork. You can work with your millwork drafting company to explain what you want in your finished product. The quality control is more in your hands.
Advantages of Casework
If budget and time are on a leash, then modular casework is the right way to go.
Lower installation time: Casework is shipped in ready-to-install cases, cutting the installation time to nearly half of that of millwork. Most clients that require custom casework drafting from us have bulk orders and easily installable cases.

Repair, reconfigure and reassemble different parts: Since modular casework can be disassembled and reattached, it is easier to repair or replace than traditional millwork.

If you are not too picky, casework can fulfil the furnishing purposes of your property well. Moreover, casework is not always fitted onto the floors or walls. This makes it easy to relocate and rearrange.

Interior rendering of home with woodwork by BluEntCAD

Your requirements are specifiable: Custom millwork drawing is time-consuming and tedious. It is rarely done without a few revisions. However, modular casework drawings can be easily created by your local casework drafting company. You can also get casework models created with BIM software.
Conclusion
We hope this article has given you an insight into the differences between custom millwork and casework.
No matter which one you require, you will get the best results with millwork drafting services. We cater to millwork shops, cabinet makers, woodwork companies, AWI members, remodelers, custom furniture manufacturers, homebuilders and architects for large to medium sized projects. Browse our portfolio to see how we've helped companies like yours.
Ready to make your project a success with custom millwork drafting services? Contact us now!
Maximum Value. Achieved.