Hotel lobby interior rendering by BluEntCAD
Picture this: You return from a long work dinner to your hotel room, eager to curl up with your e-reader and a cup of steaming coffee, and – the lights are cold and too bright. You can't relax. In fact, you feel anxious and unnerved, and your evening is now rather ruined. That's on the hotel for not knowing the types of lighting people need.
Whether you're working on a commercial, residential or hospitality architectural project, you're going to need to know about the different kinds of lighting for ambience, productivity, entertainment, and more.
In this article, we'll take you through the various types so you know your best choices for hotel lighting, restaurant lighting, or anything else. With that knowledge, you can get started on your construction documentation for your project.
Introduction
With so many types of lighting available, it can be confusing when developing a lighting system for any space.
Let's dive into the basic types of lighting in architecture and which light fixtures will work best for your purposes.
The 3 Types of Lighting
There are various aesthetic and atmospheric effects of lighting. Based on this, there are 3 types of lighting: ambient, accent and task.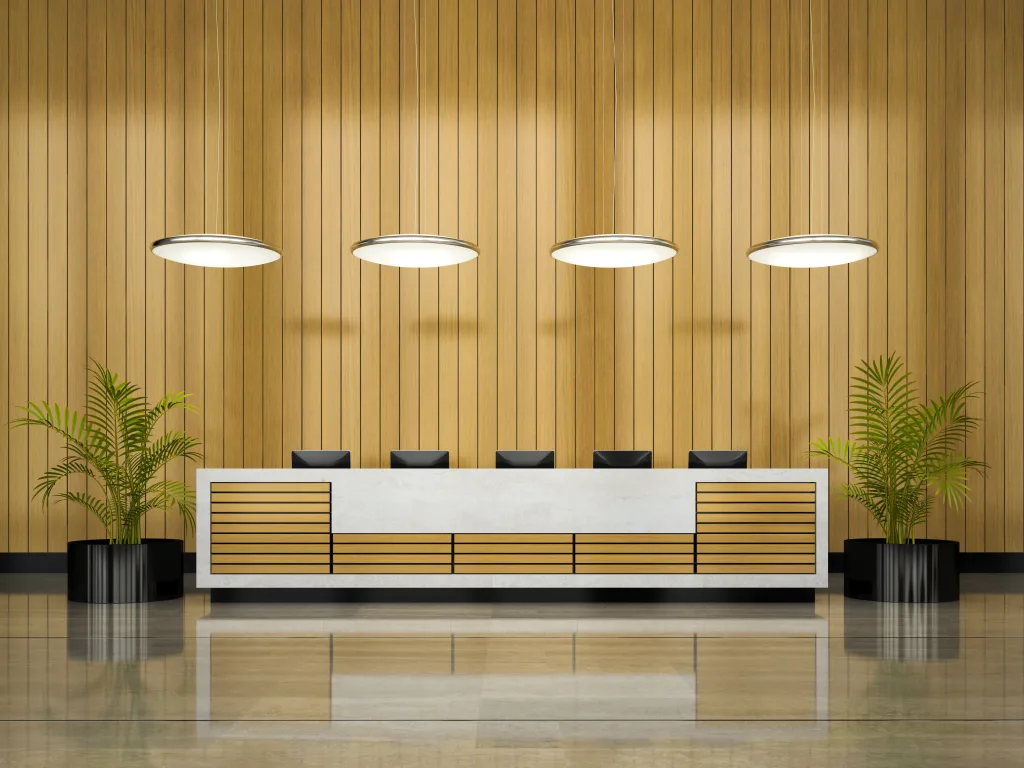 1.

Ambient Lighting

Ambient lighting is also called mood lighting or general lighting. It is a soft, at times diffused lighting, and might mimic natural light. General lighting may be natural or come from light fixtures.
It is a gentle, relaxing type of lighting.

Ambient lighting "bounces" off walls to illuminate the maximum space possible.

There is no glare or spotlight. It does not call attention to any specific area.

It is ideal for general activity or quiet conversation.
Good lighting fixtures for ambient lighting include chandeliers, LED downlights, wall scones, traditional recessed fixtures, and table & floor lamps.
2.

Accent Lighting

Accent lighting creates visual interest and adds drama to a space. It is used to spotlight sculptures, houseplants, paintings, bookcases, wall textures, outdoor landscaping, and even drapery.
It is a very concentrated light meant to draw the eye to a focal point.

It needs at least three times as much light on a focal point as the ambient lighting around it.

Accent lighting for outdoor areas, including architecture and gardens, is called outdoor accent lighting. This is especially popular during holidays such as Christmas and Halloween.

It is often used in historical buildings, art shows and museums.
Types of accent lighting include sconces, picture lights, track lights, outdoor lighting, and under-cabinet lighting.
3.

Task Lighting

As the name suggests, task lighting helps you to perform specific tasks such as sewing, balancing checkbooks, reading, writing, cooking, or gaming. Ideally, task lighting should be free of glare and shadows, while still bright enough to prevent eyestrain.
It provides additional, focused light for tasks in a space that may already have ambient or accent lighting.

It helps you see smaller objects, or objects with a low contrast.

Aids with accuracy in tasks.

Task lighting often has a swing arm or flexible neck.

Often they are installed over or near a workspace, and are an important part of commercial design.
Standard fixtures for task lighting include pendant lighting, recessed fixtures, desk or portable lamps, and under-cabinet lighting.
Warm Lighting vs Cold Lighting
Warm or cold light can be a key differentiator in how your customers or clients respond to the spaces you build. For instance, cool white lighting may hold the pride of place when it comes to bathrooms, but it's another story entirely for, say, bedrooms.
Color temperature creates a difference between these two types of lighting. While warm light emits a warm, cosy yellowish glow, cool lighting looks more artificial and gives a blueish color.
The Kelvin scale is used to measure the degree of warm or cold light. Generally, warm light is of a color temperature below 3300 degrees Kelven, often with shades ranging from yellow to orange to red, or even a warm white. Between 3500 and 4000 degrees Kelvin, the light color tends to white, and this is called neutral light.
It is important to highlight that there is no hard rule for the choice of color temperature for different spaces. You can decide the type of lighting depending on your unique needs, preferences, and spaces.
However, certain color temperatures are generally used in specific spaces. For example, in kitchens, it is prudent to use cool lighting due to the need for good visibility. On the other hand, in a living room, you might want warm pendant lighting, to lend warmth and cosiness to social moments such as talking.
Major Types of Lighting Fixtures
Recessed. Installed above the ceiling. Opening is flush with the ceiling. Insulation is required to ensure that condensation doesn't drip into light fixture. Offers a narrow band of light in a single direction. Can be used for task, accent or ambient lighting.

Under-cabinet. Installed above the ceiling. Opening is flush with the ceiling. Insulation is required to ensure that condensation doesn't drip into light fixture. Offers a narrow band of light in a single direction. Can be used for task, accent or ambient lighting.

Track. Suspended or mounted from the ceiling. Consists of a linear housing that has several heads, which can be positioned anywhere along the track. Direction of heads is adjustable. Often used for accent or task lighting.

Wall Lighting & Sconces. Work great for accent lighting. They come in a range of sizes and are ideal for showcasing architecture and art.

Desk, Floor & Table Lamps. Extremely versatile and portable. Most are directed downward, except torchieres. Often used as task or ambient light.

Interior rendering by BluEntCAD

Ceiling Lights. Installed directly into the ceiling. Lights a large room or only the area directly below the fixture. Most ceiling fixtures need to be installed directly into the electrical system and are controlled by wall-mounted switches.

Technically, various fixtures are in fact types of ceiling lights, such as chandeliers, recessed lights, flush-mounts and pendant lights.

Chandeliers. Statement light fixtures that are ideal for entertaining guests, either in a home or in a gathering space such as a large hall. The light emitted has a wide radius.

Pendant Lights. These lights hand from the ceiling on a long chain, rod or cord. Can be used for task lighting and are decorative and striking. Can range from simple to ornamental. Radius of light is usually smaller than that emitted by chandeliers. Hence, not ideal for dining areas, but great for kitchens.

kitchen interior rendering by BluEntCAD

Outdoor Wall Lights. A good option if you don't have an overhead surface to install a ceiling light. Wall lanterns and barn lights are increasing in popularity for their warmth and stunning look.

Outdoor Landscape Lights. Incorporate these in your landscaping design. These fixtures enhance and light up features of outdoor spaces, such as walkways, steps, patios, and decks. Characterized by location, such as pathway lights and deck lights.

Flush-Mount & Semi-Flush-Mount Lights. Decorative, but more subtle than pendants or chandeliers. Installed into the ceiling, but do not hang too far down, if at all.
Best Kitchen Lighting Options
Recessed lighting

Surface lighting

Pendants

Cabinet lighting
Best Office Lighting Options
LED

Incandescent

Fluorescent
Best Hotel/Hospitality Lighting Options
Hotels are used for a wide variety of functions, so it is best to invest in many different types of light fixtures. You might want to consider:
Chandeliers

Wall sconces

Pendants
Best Restaurant Lighting Options
Pendants

Tracks

Recessed

Wall lights

Chandeliers
Conclusion
Whether it's outdoor light fixtures, ceiling lights or chandeliers, you'll need to work them into your lighting system.
This means getting the proper electrical plans for your requirements. BluEntCAD offers construction drawings that include electrical plans for MEP engineering companies, civil engineering companies, structural engineering companies, and MEP, HVAC and fire subtraders for large to medium sized projects.
Ready to make your project a success with construction drawing services? Contact us now!
Maximum Value. Achieved.