Having trouble impressing clients or investors for your architectural projects? Photorealistic 3D architectural animation might be the answer to your problems. VR in construction and interactive animations have added dynamism and interest to the world of 3D rendering.
You'll get a clearer idea of how to boost your business by knowing the various types of 3D architectural animation. Let's get started.
Introduction to 3D Architectural Animation
You already know about the types of 3D rendering in architecture. But what about types of 3D animation, like walkthroughs and fly-throughs, to name a couple?
Architectural animation involves developing architectural movies on a computer, using design software such as Maya and 3DS Max. Such animations can also include moving human figures and vehicles, and can be used for both exteriors and interiors.
Animations provide a unique opportunity to view the product before it is built in greater detail. They are excellent for:
Viewing objects or spaces from different angles using rotation

Seeing objects in a more realistic or practical way than is possible in still renders

Getting a bird's eye view in motion
Photorealistic animations can be made for a variety of target audiences: investors, private clients, the general public, or official organizations. Since each group has its own requirements and demands, the focus may differ in the animation accordingly.
For example, for individual clients who want a residential rendering, the animation should include a homely, personal touch, such as décor, clothes, and household items. This is a form of emotional marketing wherein the viewer is more immersed in a presentation of they see details relating specifically to their life.
It is important to remember that just because something is "interactive", such as interactive floor plans and interactive sitemaps, it does not necessarily mean it is animated. Having said that, interactive floor plans and sitemaps can be a valuable addition to your marketing plan.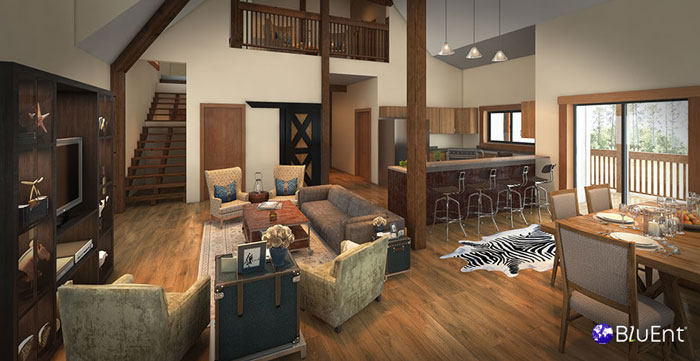 Interior 3D rendering by BluEntCAD
Types of 3D Animation in Architecture
We have already covered architectural walkthroughs and architectural flythroughs in some detail. Hence, in this article, we will be focusing on other types of 3D architectural animation.
1.

Virtual Reality (AR)

With the increasing affordability and availability of head-mounted displays (HMDs) such as HTC Vive and Oculus Rift, VR is becoming a more practical possibility in architecture.

There are several advantages that come with virtual reality HMDs. They provide:
A more realistic sense of scale, spatial awareness and depth

A more representative an accurate feel of the space
Because the client can experience a product in a photorealistic, life-like simulation, it becomes much easier to discuss certain details that could otherwise have been missed in a different format. It's no wonder that using reliable VR is a great way to leap ahead of your competition.
Having said that, there are further improvements to be made in the realm of VR technology before it can fully replace more "traditional" methods. This includes the ability to allow designers alter schemes in real time, graphics, and speed.
Note that VR does not have to be immersive. For example, 360 virtual tours are considered VR, even though they do not necessarily require HMDs.
360º Virtual Tours
A 360 virtual tour is a thorough and detailed 360 x 360 degree view of a space and includes two or more 3D panoramas. These panoramas are linked by transition points. Initial 3D visualizations are processed to create the panoramas.
Such tours can be considered an advanced type of 3D visualization that combines both animation and exterior and interior visualization. They are the embodiment of various 3D project types.
A user can "walk" through a virtual navigable environment, as well as look up, down, left and right. They can also zoom in and out to focus on particular areas or items. Often, a 360 virtual tour is combined with sounds, a map, and a control panel. The tours can be viewed on desktop computers, tablets, laptops and even mobile phones.
360 tours are commonly used by real estate agents around the world. They have transformed the way people view commercial properties, real estate listings, and multi-housing units.
2.

Augmented Reality (AR)

Augmented reality is an interactive experience that overlays the real world with virtual elements. Generally, you overlay 3D digital buildings or building components onto real spaces or sites. In this way, it is different from virtual reality, which creates a digital environment from scratch.

Combining virtual elements with real construction or renovation sites can increase accuracy and efficiency, thus reducing errors and saving time and money.
AR can provide a more accurate view of the layers of installations and materials that can be too complex to understand through drawings, renderings or VR

Various 3D plans and even virtual model holograms can be used to improve understanding of a project

It can guide the construction of complex geometries

It can help even during construction, with the ability to understand the path of installations and to see through walls.
To make full use of augmented reality, you will need a device, usually special glasses. Currently, the most popular AR hardware used in construction is Microsoft HoloLens. This is largely because they are relatively economical and are now considered basic protection glasses. DAQRI has also developed a safety helmet that integrates with HoloLens.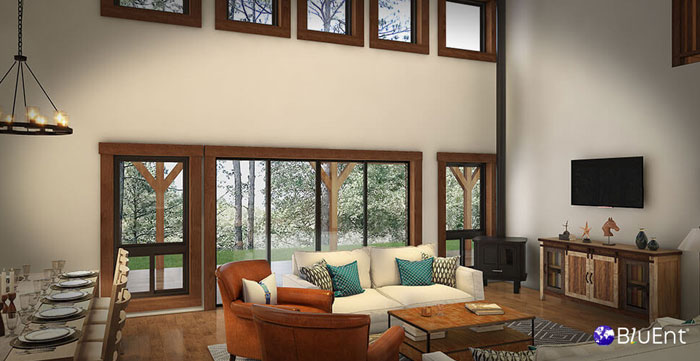 3D interior rendering by BluEntCAD
3.

Interactive 3D Animation

3D interactive models can take your product to the next level. Users can make changes in a virtual space by choosing colors, materials, furniture, lighting and other fixtures. This way, you can offer a level of customization that is unparalleled by other forms of animation.
The fun factor of interactive architectural animation means that users will be talking about it – and advertising your business for free.

Interactive 3D animations can also be uploaded or posted on your website to drive more traffic and generate excitement around your products.
Conclusion
With the right kind of 3D architectural animation, your business or individual projects can see even further success.
But purchasing the software and training employees can be both costly and time-consuming, which is why so many companies turn to BluEntCAD. We offer 3D animation services to home builders, real estate developers, interior designers, architects, home renovators, design build contractors and remodelers.
This encompasses 3D walkthrough services, fly-through services, and 360 views. We can include moving people, cars, flowing water, transitioning light, and outstanding camera movement.
Ready to take your business to the next level with 3D animation services? Contact us now!
Maximum Value. Achieved.