Are you thinking of putting your house on the market? It may be worth it to first consider your home's best resale value.
This will involve taking stock of your home's current value and considering the alterations you can make to increase it. (Before you get started on those changes, it is prudent to preview them with 3D rendering.)
Today, we'll cover some of the most useful renovations and changes you can make to achieve your target price. Let's get started.
Introduction to Home Resale Value: How Much is Your Home Worth?
The value of your home depends on various factors. Perhaps surprisingly to some, the physical attributes of a home do not contribute overmuch to the value. This is because they tend to deteriorate over time.
Here's what affects your home resale value:
Upgrades: Updates can add value, especially in older homes. However, the impact of an upgrade can vary depending on existing home value, location, the market, and so on. For instance, wooden floors and pools can add greater value to expensive homes, while full bathrooms and kitchen remodels can add greater value to less expensive homes.

Neighborhood: This is affected by crime rate, school system quality, and other home prices. Most real estate agents will rely on "comps" (sale prices of comparable homes in the neighborhood) to estimate home value. Prospective municipal and commercial developments (schools, hospitals, etc.) also matter.

Age & Condition: Generally, newer homes have a higher value. This is partly because important parts of the house, such as plumbing, roofing, electricals and appliances are less likely to break down or require frequent maintenance.

Home Size & Usable/Livable Area: A larger home can increase its valuation. In addition to square footage, the usable space matters. Note that attics, garages and incomplete basements are not considered usable space. Instead, the highest value is placed on bathrooms and bedrooms. Hence, the more bedrooms and bathrooms, the higher the home value. However, note that these trends can be region-specific.

The Market: The number of buyers and properties for sale in your area can have a large impact on your home value. Selling in a buyer's market (few buyers but many homes) may drive down the price or require concessions, and vice versa.

Location: Employment opportunities and quality of local schools, as well as proximity and access to public transit, entertainment, utility lines, recreational centers, highways, and shopping, all matter.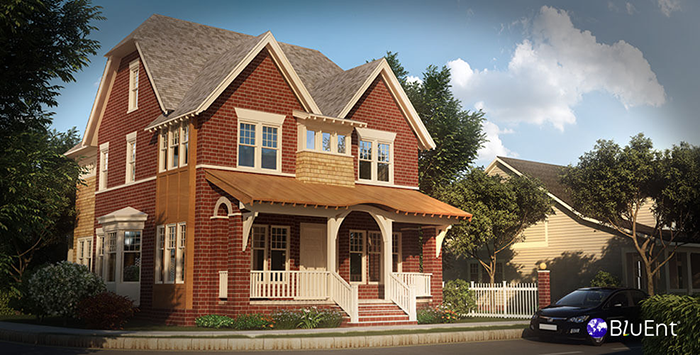 Exterior rendering of home by BluEntCAD
There are 3 primary types of valuation:
Appraised Value: A licensed appraiser will consider the condition, location and size of your home, as well as renovations. Appraised value is what mortgage lenders consider when borrowers buy homes.

Fair Market Value: What your house seems like to prospective buyers compared to other houses in your area.

Assessed Value: The assigned dollar value of the home. It is used to determine property taxes by local country tax assessors.
How to Increase Resale Value
Here are the best ways to increase home resale value. Remember, however, that whatever you choose, it is always prudent to speak with a local real estate agent. They can take stock of your home and surroundings and the market and give you a more tailored idea of what will make the biggest difference.
1.

Temperature Control & Lighting

Have a scheduled viewing? Present the heating or cooling ahead of time, depending on the weather.
The central heating or cooling system can add – or lower – value to your home. Potential buyers will want to know they will feel comfortable in your home no matter the weather outside. Old houses often have no central temperature control or have old-fashioned systems that require frequent maintenance or upgrades.

Updating or adding a central temperature control system should be done in conjunction with improving the building's overall energy efficiency.

Additionally, good lighting is essential, especially for those drab gloomy days. As such, keep warm-light lamps in darker corners, and make sure any spaces meant for work or hobbies, such as home offices, are well lit.

It is usually better for a home viewing to take place when there is plenty of daylight, but in case it happens in the evening, remember to turn on all your outside lights.
Discover the best types of lighting for your home so you can better impress potential buyers or appraisers.
2.

Energy Efficiency

Energy efficiency isn't just about saving money – it's about doing our small bit to help slow down climate change.

Ideally, your home should not just meet but exceed energy efficiency standards. Energy-efficient homes have higher resale values than ones that are not. This can be a not insignificant amount.

Aside from using green energy, improving energy efficiency can involve:
Using double glazing for windows that are beyond repair.

Adding insulation to loft spaces.

Sealing drafts around windows and doors.
Here are further tips to improve your home's energy efficiency
3.

Safety & Security

If you want to build a custom home from scratch instead of renovate an existing one, it is recommended to purchase land in areas that are considered secure.
It's not just about crime rates. Soil quality, disaster risk, air quality, and local build codes all matter.

Lots should not depend on neighboring buildings for security or safety. You should opt for land that can be built up easily without a large risk of loss or damage.

Even if your building or apartment follows all safety regulations and codes, your neighbor's might not. Hence, your home value could suffer due to no fault of your own.
4.

Spruce Up That Garden

Got a garden? Whether it's small and charming or sprawling and grand, it may be time to spruce it up. While you're at it, you may want to consider some homey outdoor living elements.
A clear pathway and some potted plants will help with first impressions.

Instead of just an expanse of grass, it should feel like a space for relaxing or entertaining.

Cut back overgrown bushes or trees, trim borders, and clear pathways. Direct sunlight into the property should not be blocked.
5.

Driveway/Off-Road Parking

In some regions, you can gain a huge premium by offering the ability to park close to the front door. Hence, if you have the space to add off-road parking, you should take the opportunity.
6.

Kitchen Makeover

Aside from bedrooms and bathrooms, kitchens are often the most important aspect for prospective buyers.
You can renovate and modernize your kitchen for maximum value.

Or, if you have a smaller budget, you can replace doors or handles, or paint units. You can also get custom kitchen cabinets.

Good lighting will make a positive difference.
7.

Sophisticated Bathrooms
Replacing taps, regrouting, and eliminating limescale are all good ideas.

Walls should be painted a neutral, fresh shade.

A standard glass screen or new shower curtain can add to the appeal.
Conclusion
Whether it's a renovated bathroom, a loft conversion, a revamped HVAC system, or anything else, you should always consider the market and local conditions when making changes. We hope this article has given you some ideas as to your best options.
For best results, you can take advantage of 3D rendering services. This way, you can preview changes to your home before they are made in a photorealistic fashion. BluEntCAD provides interior renderings, exterior renderings, 360 views, architectural walkthroughs, and interactive floorplans.
We serve home builders, real estate developers, interior designers, commercial architects, home renovators, home designers, interior decorators, design build contractors, and remodelers. Browse our portfolio to see how we've helped companies like yours.
Ready to raise a bunch of buildings' resale value? Contact us now for 3D rendering services!