Engineers in a meeting discussing by ThisIsEngineering
Construction and refurbishment of buildings come with several unique difficulties. Some of these issues include how engineers, architects, and contractors can produce deliverables more quickly and reliably and how they can capture enormous volumes of data.
We often discuss how BIM (Building Information Modeling) workflow stakeholders aiming to produce as-built models of buildings and spaces have an easier time thanks to point cloud to mesh software. In this blog, we will be exploring the advantages that point cloud to mesh offers the building sector.
Understanding Point Cloud and Meshing
A collection of data points called a point cloud is used to depict a real-world object or space. Millions of little measurements, each with an x, y, and z coordinate, combine to form point clouds.
A point cloud can be constructed and then transformed into a mesh or 3D model for usage in other applications.

Point cloud to 3D model is a trustworthy technique to record as-built circumstances since the mesh produced from them is accurate.

There are three crucial stages in the point cloud modeling process. These phases incorporate scanning and measuring, registering, and then finally transforming the point cloud to 3D meshor 3D models.
The two main techniques for collecting point clouds are photogrammetry and laser scanning.
Laser Scanning
The most thorough method for generating a point cloud is laser scanning. It offers the efficiency and degree of accuracy required for most building documentation assignments.

They make it simple for contractors to obtain scan data, which can be updated as the project moves forward.
Photogrammetry
In contrast to laser scanning, photogrammetry is a technique rather than a tool. This method creates measurements from a collection of images.

Laser scanning continues to be the most precise method for documenting site conditions, even though photogrammetry is favored in some circumstances, such as when utilizing a drone.
Around the world, construction companies use these scans to convert point cloud to mesh, which represents extremely accurate and detailed 3D models.
The experts and stakeholders have started using point cloud data to 3D models aggressively in their building and renovation projects to increase productivity and cut expenses. Let us explore the other benefits of point cloud to mesh in the AEC industry.
Benefits of Point Cloud to Mesh
Creating intelligent 3D models
The stakeholders involved in the construction or renovation project use high-definition BIM technologies to convert point cloud to 3D model using as-built conditions based on point cloud data.
The intelligent solution makes it possible to accurately model components like beams, roofs, columns, pipelines, MEP fittings, etc. to make better decisions about maintenance, replacement, and renovation.
Point cloud to mesh enhances the visualization process
According to Statista, as of 2019, the statistic shown in the report, represents how building information modeling (BIM) is used in the US construction industry. At that time, almost 49% of the questioned builders said their businesses utilize BIM for visualizations.
Point cloud to mesh software aids in the creation of comprehensive, information-rich photographs of a real-world project or structure by stakeholders. If this were determined by hand or with analog equipment, it would be imprecise and time-consuming.
A coordinated point cloud to mesh enables architects and engineers to see conflicts, and clashes through BIM clash detection, identify them and offer changes to the building or remodeling plans.
Comprehensive building analysis
Point cloud data to 3D models is most beneficial when remodeling or renovating a structure.
A building's rehabilitation or restructuring procedure used to take a long time. Numerous problems with the previous design and damaged building materials had to be discovered only during the actual destruction because they were not evident during surveys.

Reviewing and assessing any building or structure has undergone a radical metamorphosis since laser scans were converted to 3D models.

Through the process of point cloud modeling, the 3D models or BIM models are integrated with several types of building data. This model is examined for building component damage, building redesign, etc.

Further analysis of the expenses, spending, schedule, and hindrances that develop throughout reconstruction is also made feasible by point cloud technology.
Building analysis is one of the most significant parts of the scan to BIM modeling process.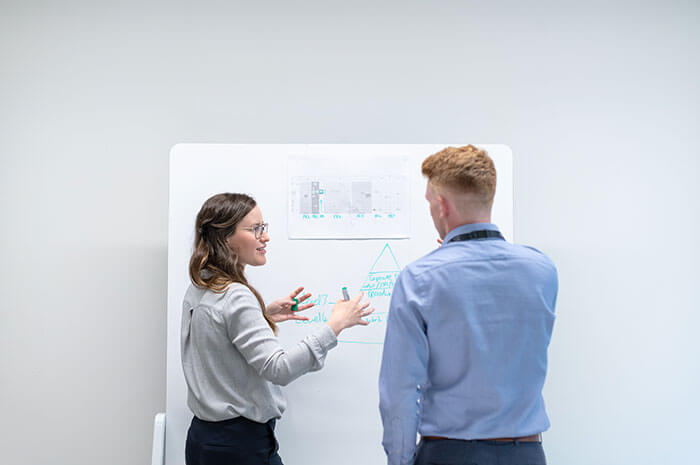 Female engineer holding presentation by ThisIsEngineering
Realistic budget proposals
High precision is needed to focus on realistic suggestions, so the architects, general contractors, and cost estimators stay within their budgets.
Using thorough building research, point clouds to mesh models help stakeholders create a realistic budget.

Project stakeholders can suggest accurate cost estimates for renovations and retrofitting using point cloud to mesh software.
Prevention of delays and better utilization of resources
Building characteristics like color and reflection are captured in detail in 3D BIM models created from point cloud laser scans.
Engineers and architects can better comprehend the precise material qualities thanks to this detailed information.

Stakeholders may utilize the knowledge at hand regarding the current structure since point clouds are simple to integrate, model, and evaluate. This lessens the requirement for RFIs and prevents time, resources, and expense overruns.
Comparatively speaking, laser scan surveying is far less expensive and time-consuming than traditional surveying techniques. Point cloud BIM modeling has proved to be a lifesaver in construction planning and budgeting.
Seamless coordination and better safety
When it comes to fostering cooperation between design engineers, architects, contractors, and end-users, point cloud to mesh services is quite helpful.
One can comprehend the current design and talk about the suggested designs by creating 3D models from scans. It becomes simpler to comprehend the shortcomings of the new proposed design and the improvements that are necessary.
Point cloud technology and BIM clash detection assist in the detection of blind spots in construction equipment, active safety management, etc.
Manual surveying may entail navigating across challenging terrain, posing a safety risk to surveyors. Drones are included in the point cloud which makes it extremely powerful and safe for data collection from dangerous terrains.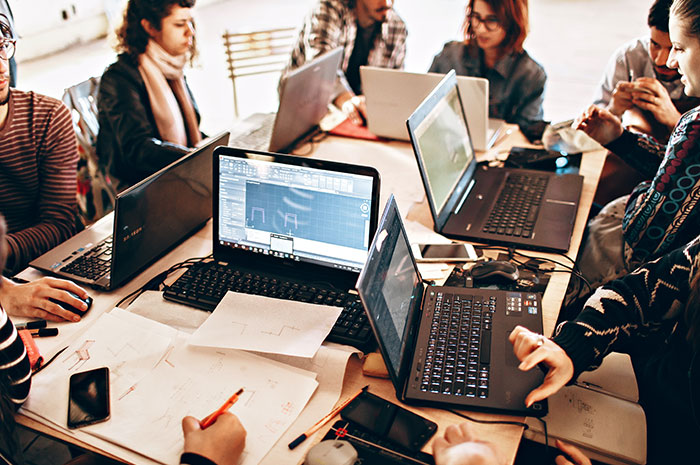 People using their laptops and discussing by Helena Lopes
Point clouds are being used by construction industry experts to streamline their processes and cut expenses. Point cloud to mesh provides the precise measurements you need to stay on schedule, whether you need to document the circumstances as they were when the building was constructed or track construction progress.
Conclusion
It can be intimidating to differentiate oneself in the AEC field. Several businesses are attempting to use the most cutting-edge methods and solutions.
Nobody will ever argue that they preferred doing things the old-fashioned way, regardless of whether businesses embrace it proactively or in an emergency.
A defining move that can create a wealth of exciting prospects for your building projects, and financial strategy and help you stay ahead of the brick-and-mortar competition, is investing in the point cloud to mesh process.
If you are still on the fence about point cloud to mesh services, talk to our team to learn more. Businesses have started outsourcing their services to concentrate more on developing creative architectural designs with extreme precision.
Browse our portfolio to explore how we've supported global construction companies and provided 3D BIM models in Revit services using cutting-edge technology.
BluEntCAD uses the latest technology to develop high-quality 3D mesh and 3D models with unparalleled accuracy. Our team can offer a virtual yet realistic feel to your construction plan for a project through scan to BIM services.
Ready to change the construction game with our top-notch BIM services? Contact us now!