Image by Lissete Laverde
How can you ensure that a customized product ends up being what your customer wants and not something that will get your company a one-star review on a public website?
3D product modeling is the answer. It is used not only in architecture and interior design, but also in product design, game design, manufacturing and animation.
However, it can be easy to become overwhelmed at the sheer number of software for product rendering available in the market. We've dug through the rubble and narrowed it down to the five best options.
Introduction to Product Modeling Software
3D modeling is booming.
Rising competition has put pressure on organizations to adopt 3D models and offer better, more accurate visualizations of their products. The market size for 3D rendering is expected to be valued at 9 billion USD by 2026, growing at a CAGR of 20% between 2020 and 2026.
3D rendering is used for everything from selling real estate to increasing hotel bookings. This is often done not just by producing accurate models, but by eliciting strong emotions in prospective consumers.
With that, let's cover the top 3D product modeling software that will best suit your purposes.
Top 3D Modeling Software
In terms of great general 3D rendering software, we have already covered Revit, ArchiCAD, Maya, SketchUp, Lumion and Rhino 3D. We have also covered the best rendering tools for interior designers, including V-Ray, Blender and Maxwell.
Today, we'll be showing you the pros and cons specifically of the top 3D modeling software. Note that there may be some overlap. For example, out of the ones we have already written about, Maya, Rhino 3D, and SolidWorks are also suited to product modeling and furniture rendering.
ZBrush
ZBrush is particularly good for 3D printing.
It is the top sculpting and modeling application to create organic forms, and even works well for hard-surface solid forms. It's no wonder that it's a popular choice for 3D printing action figures and other toys.
ZBrush offers a novel way of modeling. Rather than combining meshes, users can "sculpt" them like clay. This means that users can do progressive detailing, since polygon stretching is done away with. A high-res mesh is built from silhouette to minor details.

One of its biggest advantages is that it does not require other programs (such as Maya) to create base geometry. It is fully self-sufficient.

Modeling and sculpting not ambitious enough for you? ZBrush can also create UV maps and textures. This means you can achieve hyperrealism to otherwise "normal" sculptures and models with fabrics and other textures.
Pros:
Excellent for 3D sculpting

Offers hyper-realistic modeling

Good for 3D printing
Cons:
Steep learning curve

Not ideal for animation and rigging

Non-standard UI and menus

Requires graphics tablet for best results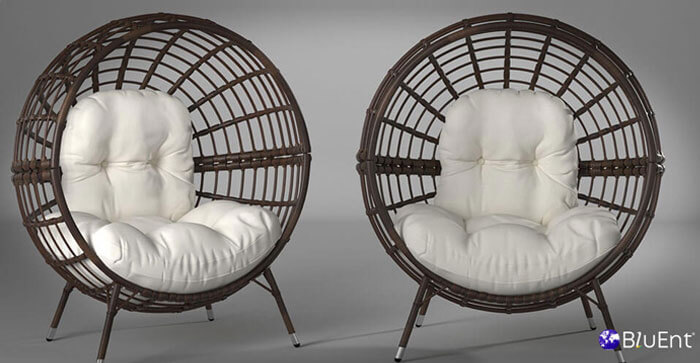 3D product rendering of two chairs by BluEntCAD
Houdini
With a name like Houdini, you know this software's going to work some magic.
SideFX's Houdini has created a large range of 3D imagery spanning the CG and film industries. It is used by major animation studios such as Pixar, Disney, ILM and Sony Pictures Imageworks, and not just for small projects. Frozen, Rio and Fantasia 2000 all used Houdini.
It is no surprise, then, that Houdini comes with a vast range of features that will have you covered for every major area of 3D production.
If you want an outstanding job on simulation and VFX, Houdini is your choice.

Houdini covers 3D modeling, dynamics, animation, particles, lighting and rendering.

Creation of 3D designs is made more versatile and accessible with Houdini's plugin development, composting, and volumetrics.

A node-based procedural approach allows users near unprecedented control, flexibility and power. While the nodal workflow may not suit everyone, Houdini includes more traditional tools that allow users to directly interact with the polygons.

Its problem-solving capacities are miles ahead of other 3D modeling software. Rewiring can be done with ease.

Since Houdini's workflow can be tricky, SideFX also offers Houdini Apprentice, which is a free version of Houdini FX. It can be used by hobbyists, artists and students on non-commercial projects. Apprentice also has almost all the features of Houdini FX, so you can develop your skills at your own pace.

If that weren't enough, if you're a smaller company, an affordable option comes in the form of Houdini Indie.
Pros
Industry-leading

Free and economical versions

Wide variety of plugins

Amazing modeling and rendering capacity
Cons
Complex workflow

Houdini FX comes with a high price tag

Somewhat confusing interface

Steep learning curve
Daz Studio
Daz Studio is a free modeling tool that covers rendering, animation, posing, morphing, and texturing, with an emphasis on morphing.
While it is not great for creating models, Daz Studio is excellent for designers who want to assemble models or add textures, components or colors to develop detailed 3D models.

Users can accomplish much by adding components to pre-existing built-in models and morphing them.
Pros
Morph and customize realistic 3D models with free software

Good for realistic character design

Suitable for both professionals and amateurs
Cons
Not very flexible

Customer support is sub-par

Cannot create 3D models from scratch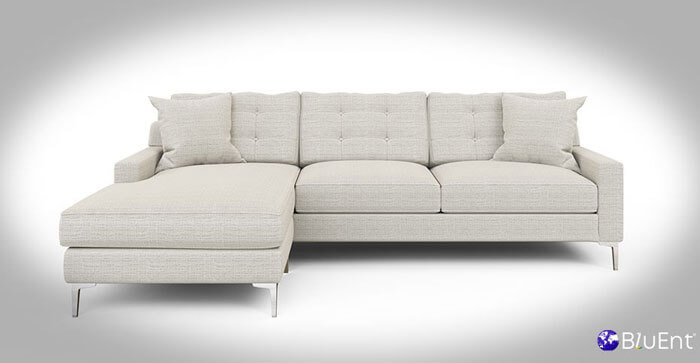 3D product rendering of a white sofa by BluEntCAD
Marvelous Designer
Need to sell clothes? Marvelous Designer is possibly the best tool for developing photorealistic leather, fur and fabric textures and meshes. Even blockbuster movies and AAA video games use the CGI clothing made in this program.
Marvelous Designer allows users to design and simulate 3D clothing.

The first official release was named CLO3D, which is today used in the apparel/fashion industry, while Marvelous Designer is used in VFX and film, games and architectural previsualization.
Pros
Easy to create clothes

Reasonably strong community

Store area has free pricing
Cons
Import & export files have few options

Software is often not upgraded
Adobe Substance 3D
Substance 3D is among the most detail-oriented and versatile platforms for 3D product modeling. It is reasonably priced considering the industry, and comes in two packages: 19.99 USD (3D Designer, 3D Painter and 3D Sampler) and 49.99 USD (all of the previous applications, plus 3D Stager).
Create 3D objects from scratch, export/import 3D objects, add textures and colors with hyper-realistic tones, and stage objects with various lighting settings in a choice of environments and backgrounds.

Users can also develop textures from real-life images and texture these over 3D objects in real-time.

Wide variety of 3D objects and design resources. This makes product design less time consuming and much easier.
Pros
Reasonably priced

Deep brush customization

Supports third-party plugins

Versatile and powerful 3D design

Contains wide variety of pre-made 3D objects
Cons
Steep learning curve

Not included in Adobe All Apps Plan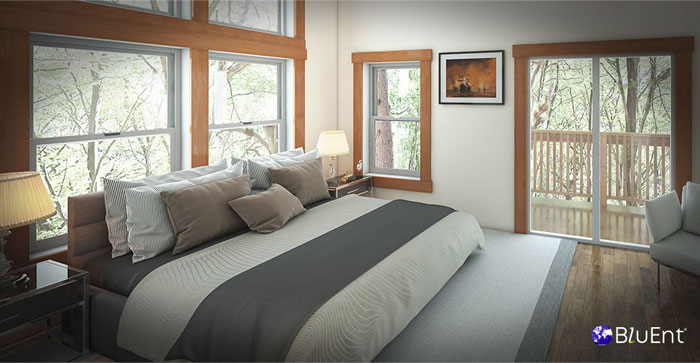 Interior rendering of bedroom by BluEntCAD
Conclusion
Ultimately, the best product rendering software for your company will depend on your goals and your budget. What do you think? Is there a modeling software you believe always tops the list? Let us know in the comments!
If you already know what kind of software would suit your project, the best thing to do would be to get professional 3D rendering services. BluEntCAD provides rendering services, including 3D furniture rendering and interactive walkthroughs and fly-throughs, to homebuilders, real estate developers, interior designers, architectural companies, renovators, design build contractors and remodelers.
Ready to take your business to the next level with 3D rendering services? Contact us now!
Maximum Value. Achieved.